Hello folks. I'm back with a traveling post this time. I was just flipping through my photos and suddenly I remembered my younger cousin sisters who live in Dehradun. I know this post is bit late but as it is said "It's better to be late than never". Just after my birthday I happened to visit Dehradun in December 2012. I travelled all alone for the first time. Yes, ALL ALONE! ;)
I have been to Dehradun twice before but this trip was a memorable one for me as I could explore the city well and in the mean time I had spend my NEW YEAR up there in the hills with my little cousins! I caught my train from Delhi and imagine my situation that my seat was not confirmed and on the top of it travelling alone. Moreover, a generous handsome man gave his seat to me. I couldn't thank him enough. I made friends too en route. Reached at night around 9.30pm and was picked up by my relatives there. It was too cold, I remember I wore 2 jackets and 3 pairs of socks (I'm not kidding!) and was still FREEZING!!
DAY 1

: Anyways the next day, all refreshed up. I visited the famous SAI TEMPLE with my cousins. It was so divine believe me, I was all calm and relaxed.
The Main Hall










The Palki
The Wishing Tree
After that it started raining heavily so we had no choice just to stay indoors as it was winters. We started clicking indoors itself. It was fun being with my lil cousins. We were meeting almost after a year so there was lot to chit chat and all that girly stuff. OK let me share few pics of my cousins with you all.
The youngest of all
Sibling Love
P.S. : No photo is edited! You could guess by looking at our faces how cold it was!
DAY 2

: The next day weather was amazing so we thought to go a bit far off temple which was BUDDHA TEMPLE in Clement Town. It was bit far off from my place where I was staying. This was one kind of temple I would have never imagined. It was awestruck by its beauty. I loved visiting this one. If you ever go Dehradun please don't miss it for sure. It's a must see temple!
The highest statue of Buddha
The ground floor area
For the shutterbugs!
The view from the top floor. It was just amazing!
Sibling love
We are family
The entrance
Monastery
The wishing roller
I thoroughly enjoyed going there. It has such a beautiful lawn just outside the temple.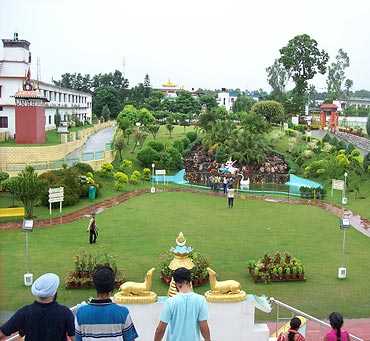 The beautiful lawns
If you miss this beauty, your trip is incomplete to Dehradun for sure. Almost whole day was spent here as I had other relatives and friends to catch up with. Amazing day it was, all thanks to this masterpeice.
DAY 3 & 4

: This day was booked by the relatives for lunch and dinners. Now it was the New Year Night and also the birthday of the sister. What a co-incidence no ? It was double celebration for us New Year and birthday! And it was my first New Year there. Have lot of pics to share but would share sometime soon.
Surprised her with the cake!
The celebrations went on full night. We all didn't get the time to sleep. Next morning too we all partied hard like crazies all friends, relatives, neighbors, it was so much fun I tell you. At night we went to Pizza Hut and ended my celebrations there!
You can easily see how tired we all were!
After all these 4 days of grand masti, it was time for me to come to Delhi. Had my train early morning at 5 in these winters. I could just catch up the train at the neck of time! It was fun. How rapidly these 4 days went away. I still miss every moment of them. Late night talks, new year celebrations, my little cousins cooking for me, blah, blah everything! I miss them so much. Hope to celebrate my New Year this time too with them in the hills.
Signing off for now. Thank you for your patience! xoxox